Wayanad Cabs – The Largest Taxi rental company in wayanad . we have all kind of taxi model available with lowest fare. our drivers are very friendly and flexible for customer handling .
Wayanad Taxi Model
Etios Taxi inwayanad, Swift Dzire Cab in wayanad , Tata indica in wayanad , Tavera in vythiri , Innova taxi for wayanad sightseeing .
Surrounded by greenery on all sides, the Pookode Lake is located at a distance of 3 kilometers from the town of Vythiri. The interesting aspect of this lake is that the lake's shape resembles that of the map of India. Being surrounded with mountains, forests and greenery, the place totally relaxes and refreshes you.
At Pookode DTPC offers the tourists the facilities of boating, Children's Park, Fresh water aquarium etc.(Tel:9843065696)
Distance : 15 km from Kalpatta, 40 km from Bathery, 50 km from Mananthawady.
Edakkal Caves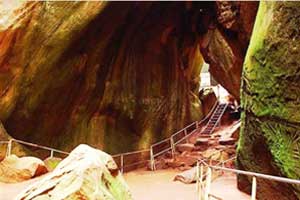 Situated at Ambukutthi Hills,4000 feet high, near Bathery,one of the oldest historical monuments famous for its ancient cave paintings. The cave was formed on its own when a huge boulder crashed into the hill. It is for this same reason that this place got its name Edakkal meaning 'a stone in between'.
This attraction was accidentally discovered by the then Superintendent of Police, F. Fawcett in around the year 1894.
Distance : 21 km from Kalpatta.
Kuruva Islands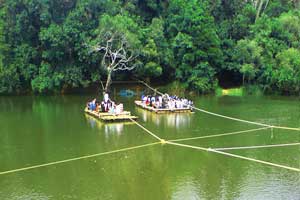 The river Kabini flowing through the middle of 950 acres of ever green forests forms estuaries leading to the island of Kuruva Dweep. This is the only island in Kerala which is surrounded by naturally purified water. This island can be only accessed by a boat or rafts or fiber boats and this facility is arranged by the Kerala Tourism Department. When on this island one can get the sight of a large species of birds, orchids and herbs.
This island or dweep is indeed a sight to watch and a place to visit.
Distance : 40 km from Kalpatta.
Bird Sanctuary
A rare treasure house of hundreds of different varieties of birds, herbs and plants. Here you can come across different bird species like Cuckoo, Owl, Peacock, Jungle Fowl, Edible Nest Swift and so on. Other than the avian guests you can also see Elephants, Leopard, Bisons, Tigers and so on.
Entry sanctioned only through D.F.O.,North Wayanad.Permitted hours of sight seeing: 11 am to 5 pm. The best time to visit is October to January. The place remains closed from February till May.
Distance : 71 km from Kalpatta, 78 km from Bathery,36 km from Mananthawady.
Thirunelli Temple
This ancient and major Hindu temple, is mainly famous for conducting funeral rites. The temple is dedicated Lord Maha Vishnu. It is on the side of the famous Brahmagiri hill, at an altitude of about 900 meters in north Wayanad.
Surrounding the temple is the water bodies of Papanasini and Panchatheertham. A dip in the holy mountain stream of Papanasini is believed to clear a person from all the sins. Also it is here that the last rites of a person takes place. On the other hand, Panchatheertham is the holy temple pond.
Distance : 64 km from Kalpatta,71 km from Bathery,29 km from Mananthawady.
Chembra Hill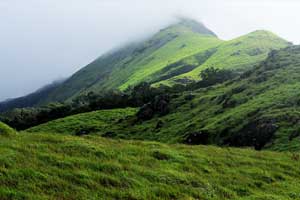 Chembra Hill forms the biggest mountain range in Wayanad, towering at a height of 2,100 meters above sea level. From here you can get a birds eye view of the entire area. This peak is located near the town of Meppadi, which is 17 kilometers away from Kalpetta. It is the largest as well as the highest peak of the Western Ghats.
Camping facilities will be provided,on advance booking at the Jilla Tourism Promotion Council (Tel : 9843042696)
Distance : 17 km from Kalpatta,42 km from Bathery,52 km fron Mananthawady.
Soochippara (Pinrock ) Waterfalls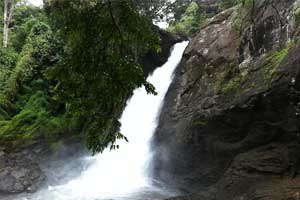 Travelling from Meppady,for about a distance of 13 km,through sprawling tea estates,one reaches the Falls.
The Soochipara or the Pinrock waterfalls is a mesmerizing place to visit. The water of this three tired waterfall falls from a height of around 200 meters. This falls are surrounded by Deciduous, Evergreen and Montane forests.
Soochipara Waterfalls is an apt location for many of the adventure activities like white water rafting, trekking, rock climbing, swimming etc. In case you feel like taking a dip, the pool below the waterfall is perfect.
Meenmutty (Fish) Falls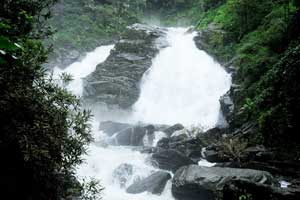 This three tired waterfall of Meenmutty, falls from a height of 300 meters and is a mesmerizing sight to watch. You can reach the closest point to these famous Falls when you travel through the Vaduvanchal route. The 2 kilometers long hike through the jungle is an interesting aspect of the visit to this waterfall.
Visit to this falls is not advised during the rainy season as the water flow increases at an alarming rate.
Distance : 29 km from Kalpatta, 28 km from Bathery, 64 km from Mananthawady.
Kaduvakkuzhi (TigerValley)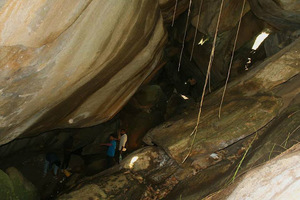 A paradise for adventure seekers and trekkers situated at Cheengeri Hills,at a distance of 2 km from Ambalavayal. It lies near Wayanad's famous Edakkal Caves. On the way to this place you can spot a Eucalyptus plantation farm. On entering the cave you can get a surreal experience. All you come across is coldness, darkness and flying bats. You can enter the cave only with oxygen masks and a professional guide.
It is believed that during the days when it is hot outside, the leopards (kaduva) enters this cave and hence the name Kaduva Kuzhi. The cave extends to a total length of 800 feet in many directions.
Distance : 26 km from Kalpatta,12 km from Bathery,43 km from Mananthawady.
Bathery Jain Temple
This ancient temple considered to be more than 1000 years old,is famous for its architecture,especially the huge and sturdy granite pillars and other carvings.
Generally this place is known as Tippu's Fort. This place was used by Tippu Sulthan as the Battery of his army.
This temple was built around 800 years ago. At first this was a temple which was later on made into a commercial trade centre and in the end it was a place for storing the ammunition and battery of Tippu's Army.
Distance : 25 km from Kalpatta.
Karapuzha Dam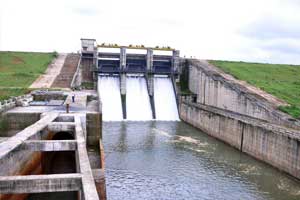 The unique feature of this dam is that the entire structure is built of mud. It is one of the biggest earth dams in India. The construction of this dam began in the year 1977 and was completed by 2004. The waters of this dam is mainly used for irrigation.
The dam is built on the Karapuzha River which is a tributary of the Kabini River. Some of the activities offered here include boating, nature walks, picnic spots and so on.
Distance : 14 km from Kalpatta, 28 km from Bathery, 41 km from Mananthawady.
Muthanga Wildlife Sanctuary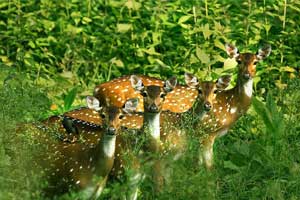 This sanctuary is connected to Bandipur National Park of Karnataka () and Mudumali Wildlife Sanctuary of Tamil Nadu and belongs to the Nilgiri Biosphere. This place is famous for its elephant population. Tigers, leopards, wild cats, stags, spotted deer, wild squirrels, bears, wild pigs, porcupines and wild mongooses besides a variety of land and water birds can also be seen by the wild life enthusiasts and trekkers. (Muthanga Wildlife Warden, Bathery – Tel:9843052696 )
Distance : 13 km from Bathery, 38 km from Kalpatta.
Tholpetty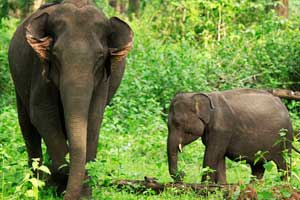 The Tholpetty Wildlife Sanctuary or the Wayanad Wildlife Sanctuary is yet another place popular for wild animals and is an entry point to the tourist destinations in Karnataka.
It is located at a distance of 20 kilometers from Mananthavady on the Kodagu Road. Here you can enjoy jeep ride. You can get to see a large variety of flora and fauna. The animals like elephants, guars, deer, monkeys, tigers, leopards etc and other species of reptiles, fishes, butterflies and birds can be seen here. The visitors can access only the outer tourist zone.
The visiting hours are 6:00 am to 8:00 am in the morning and 15:00 pm to 17:30 pm in the evening.
.
Banasura Sagar Dam
Located at a distance of 21 kilometers from the town of Kalpetta in Wayanad, is the Banasura Sagar Dam. Named after the son of the respected king of Kerala, Mahabali, this dam is built on the Karamanathodu tributary of Kabini River. It is also a part of the Indian Banasurasagar Project which supports the Kakkayam Hydro Electric Project. The dam is the largest earth dam in India and the second largest in Asia.
The reservoir of the dam contains a set of small islands, that was formed when the surrounding areas was submerged by the reservoir. With the Banasura Hills in the backdrop, this location is a sight to adore. These islands have been given the title of 'Asia's Largest Earthen Resort' by BBC. The only way to explore this area is through speed and pedal boats.